Boxgrove Publishing
is pleased to announce the publication of:
22 November 1963:
A Brief Guide to the JFK Assassination
A readable, objective account of the central issues in the ever–controversial JFK assassination. The book includes detailed discussions of several important topics, and is fully referenced, with more than 400 footnotes. The ebook versions include more than 500 links to primary source documents.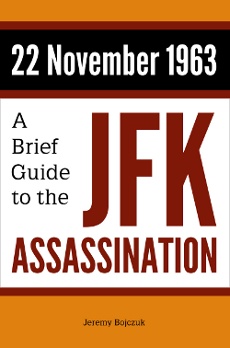 The book is published in three formats:
Paperback
193 + vii pages.
8.5″ x 5.5″ (approx. 21.5 cm x 14 cm).
ISBN: 978–0–9931003–0–7.
Amazon ebook
For Kindle devices and software.
ISBN: 978–0–9931003–2–1.
ASIN: B00OZYIV0S.
Standard ebook
In EPUB format, for other devices and software, including Nook, Kobo, Apple and Sony devices.
ISBN: 978–0–9931003–1–4.
Recommended Prices
The paperback and Kindle versions are available from Amazon. The EPUB version is available from https://sellfy.com/boxgrove-publishing, with payment, in pounds sterling, US dollars, and euros, handled securely by PayPal.
Please note that these are our recommended prices. Amazon may charge slightly more or less than these prices.
Contact Boxgrove Publishing
Email: books–at–boxgrovepublishing–dot–co–dot–uk
Or use this form, filling in every box: