is pleased to announce the publication of:
22 November 1963:
A Brief Guide to the JFK Assassination
A readable, objective account of the central issues in the ever-controversial JFK assassination, the book includes detailed discussions of several important topics, and is fully referenced, with more than 400 footnotes. The ebook version includes more than 500 links to primary source documents.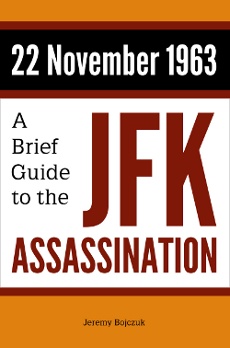 The book is published in three formats:
Paperback
204 pages.
8.5″ x 5.5″ (approx. 21.5 cm x 14 cm).
ISBN: 978-0-9931003-0-7.
Standard (.epub) Ebook
The EPUB format works on almost all devices, including Android and iOS phones as well as Nook, Kobo, Onyx and Sony readers. From 2022, Amazon's Kindle devices accept EPUB ebooks.
ISBN: 978-0-9931003-1-4.
Amazon Ebook
Amazon's proprietary MOBI format works on older Kindle devices and software.
ISBN: 978-0-9931003-2-1.
ASIN: B00OZYIV0S.
Availability
The ebook is available in the standard EPUB format from this website and from Payhip's website for customers uisng pounds sterling.
The paperback and Kindle ebook versions are available from Amazon, in every currency. The standard EPUB ebook version is also available on Google Play.
Recommended Prices
UK   ebook: £3.99  /  paperback: £8.99
US   ebook: $5.99  /  paperback: $12.99
CA   ebook: $6.49  /  paperback: $15.99
AU   ebook: $6.99  /  paperback: $16.99
NZ   ebook: $6.99  /  paperback: $16.99
EU   ebook: €5.99  /  paperback: €12.99
Purchase Now
EPUB Ebook: Direct Download
Secure online payment in pounds sterling (GBP) is handled by Payhip. You may pay by PayPal, Visa, Mastercard, or American Express. Once your payment has been authorised, your ebook will be downloaded automatically.
UK   EPUB ebook   £3.99 Buy Now
The EPUB format is an international standard, and will work on almost all ebook-reading devices and software, including the majority of Amazon Kindle devices. Some older Kindles, however, may require Amazon's proprietary format. If you have a Kindle and are at all unsure, you should buy the ebook from Amazon, who will supply the ebook in the correct format for your device (scroll down for links).
Handy hint: you can easily change the format of an ebook using a program such as Calibre, which is available free of charge for Windows, macOS, GNU Linux, Android and iOS: https://calibre-ebook.com/.
EPUB: Download from Payhip
Alternatively, you can buy the EPUB ebook in pounds sterling from Payhip's website at https://payhip.com/BoxgrovePublishing. Once your payment has been authorised, Payhip will send you an email containing a link to a location where you can download your ebook.
Paperback and Kindle Ebook: Amazon
Please note that the prices listed below are our recommended prices. Amazon may charge slightly more or less than these prices.
Epub Ebook: Google Play
Like Amazon, Google may charge slightly more or less than our recommended prices.